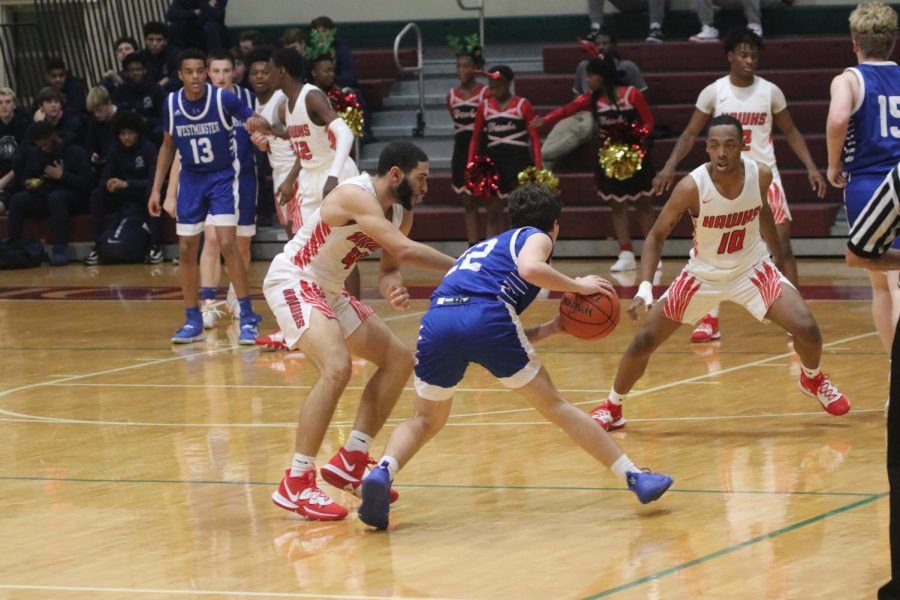 Tommy Briner
The Westminster basketball team walked away victorious in their semifinal matchup of the MICDS Tournament vs. Lift for Life Academy on Wednesday night. While the score may convey a blowout win, the Wildcats were only able to finally break away from the Hawks late in the fourth quarter.
The Cats found themselves down 6-0 early in the first quarter, but rallied by going on a 12-2 run and eventually led by one point at the end of the quarter. Sophomore Casen Lawrence played a huge role in keeping the Cats in the game with a couple contested layups and a three pointer.
The second quarter began with more of the same. Senior Zach Benes gave the Cats a spark with a breakaway steal for a layup in his first action of the season. He would finish the night with six points. Senior Brennan Orf also chipped in with a few baskets, including a clutch and one to give the team a 27-23 lead going into the half.
As the teams came out of the halftime break, they were both prepared for a dogfight. Lawrence came up big for the Wildcats yet again with a couple of three pointers. Sophomore Caleb Thompson also added a couple buckets to keep the team alive offensively. But Lift for Life did not go away. They hit a couple of much needed shots to keep the game at 40-37 at the end of the third quarter.
When the fourth quarter began, the game quickly became a one-sided affair. The Wildcats stormed out and took the air out of Lift for Life's sails. The defense forced a few turnovers early, halting any chance at a Lift for Life comeback. The team was able to ice the game away by making some pressure free throws at the end of the game.
With this win, the team advances to the championship of the MICDS Tournament on Friday. They are set to take on a long MICDS team that isn't so young anymore in what looks to be a highly contested matchup between two bitter conference rivals.