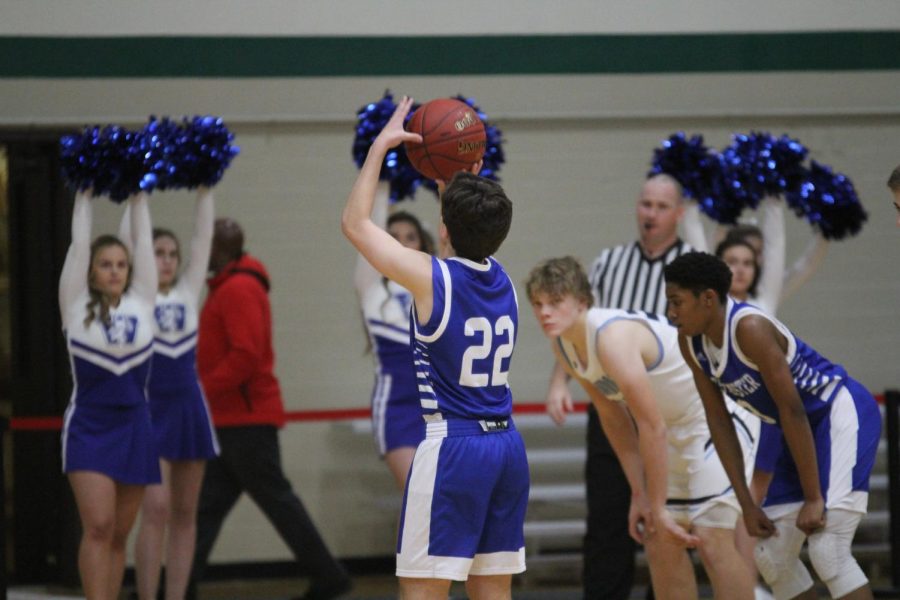 Aiden Penberthy
In their second game of the season, the boys basketball team picked up a 48-45 overtime win over the Saint Dominic Crusaders, sending themselves to the semifinal in the MICDS tournament. 
The Wildcats had the momentum going into the game, coming off of a win at Timberland this past Tuesday. 
In the first half of the game, the Wildcats came out shooting. The Saint Dominic defense came out in a 2-3 zone, preventing the Wildcats from doing anything in the paint without getting smothered. On the brighter side of things, the shots were falling for the Wildcats from outside the arc, including big shots from Casen Lawrence. The Wildcats led the Crusaders 19-16 after one half of play. 
Coming out of halftime, it seemed as if no one could stop the Wildcats. Brennan Orf was an unstoppable force on offense and defense, making crucial free throws and an unbelievable block on defense to give the Cats a lead. The Wildcats brought their score up to 34 points in the third quarter, and they held the Crusaders to 27. Matt "Swamp" George finally found his rhythm and knocked down two three-pointers.
The confidence for the Wildcat fans was at an all-time high, but little did they know, the game was far from over. At one point in the fourth quarter the Wildcat lead was at 12. However, as the final period went on, the Crusader defense became tighter than ever and their three point game was, as Jack Bystrom said, "wet." With 1:52 left in the fourth quarter, the Crusaders scored nine unanswered points and tied the game at 40. With about 20 seconds to go, the Wildcats took the ball down the court and prepared for the last shot of regulation. Lawrence drove to the right side and took it in. With three men on him, he found just enough room to put a shot up as the buzzer sounded. The ball went in and out of the hoop, sending both teams to overtime. 
In overtime, it was more of the same from the Wildcats. Orf responded to a St. Dominic three-pointer with a three point play of his own, making a layup and foul shot afterwards.
The Cats again took a two-point lead on the ensuing possession as Orf converted another layup. After another defensive stand, the Crusaders were forced to foul Lawrence to extend the game. Lawrence essentially iced the game after knocking down both free throws.
The Cats escaped with the win, and now take on Lift for Life Academy on Wednesday in the second round of the MICDS tournament.