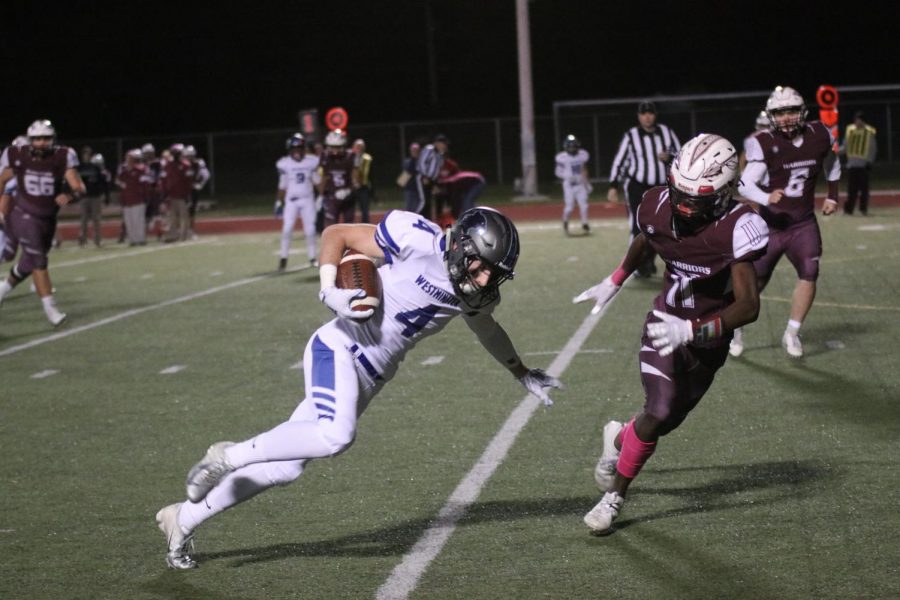 Aidan Penberthy
The Wildcats overcame a sloppy first quarter en route to a 35-13 win at Parkway North in the first round of district play. The Wildcats got off to a slow start but heated up as the game went on.
On the opening kick, the Wildcats were greeted with a treat. They recovered the fumbled kickoff on the opponent's 25 yard-line. However, they failed to score as they got stuffed on a 4th and one at the goal line. After taking the momentum, the Parkway North Vikings took full advantage. They scored on pass plays of 81 yards and 34 yards at the end of the first quarter, taking a 13-0 lead.
But from there, the Wildcats started to roll. The Ben Hicks show had just begun. Senior quarterback Lane Davis found Hicks for a 31 yard touchdown across the middle on a post. On the ensuing drive, Hicks got past his defender after "breaking his ankles" and scored a walk in 36 yard touchdown. After these two scores, the Wildcats took a 14-13 lead into halftime.
Defense was the big story in the second half. The Westminster defense completely shut down the explosive Parkway North offense, surrendering no points. But that wasn't all. Yet again, Hicks got in on the fun, scoring on a pick six with four minutes left in the third quarter. With this, the Cats took a 21-13 lead headed into the final quarter.
From there, the Wildcats put the Vikings in the rearview mirror. The defense continued to step up with big plays from senior linebackers Arthur Jordan and Toby Davidson as well as sophomore Brandon Parker. The Wildcats finally sealed the game when sophomore LJ Minner broke free for a 31 yard touchdown run followed by a Jordan touchdown on a one yard wedge up the middle.
As the Wildcats celebrate their first round win, a tall order awaits. They advance to play the defending state champion, the Ladue Rams, who are 24-1 in their last two seasons. While this task may seem daunting, the Cats could have just what it takes to beat a team this good: confidence, momentum, and nothing to lose. The Wildcats take on the Rams next Friday at Ladue at 7 pm.