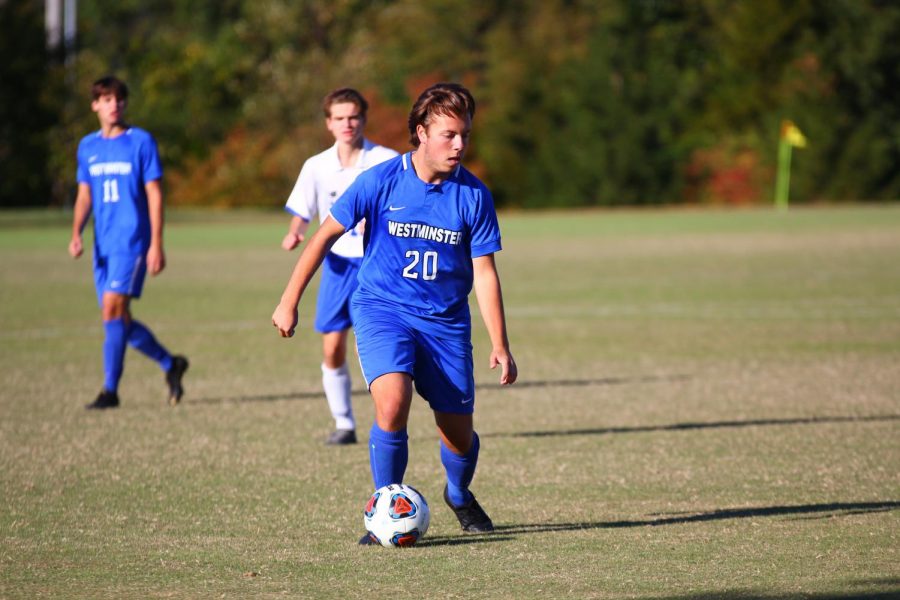 Aidan Penberthy
As postseason play is rapidly approaching, the boys soccer team is trending upwards at the right time. In their last 11 games, the team is 8-3, only surrendering losses to very talented teams in Lafayette, St. Dominic, and John Burroughs. 
What makes this streak even more amazing is how the team has come together. While they are certainly a skilled group, they believe their chemistry on and off the field is what makes this year's team so unique.
"I would say what sets this team apart is the bond we have established," says senior defender Mike Lemp. "We are all becoming best friends and playing for one another."
Another key component to the Wildcats' success is the freshman phenom Tyler Hott. Although he missed some time earlier in the season with a concussion, he has made his presence felt on the pitch by being a brick wall in front of senior goalie Pierce Dunne.
"Tyler's been awesome in defense," says senior midfielder Danny Sacco. "He's easily one of our most talented players, and he's got a bright future ahead of him."
But the offense is not to be outdone. The team has averaged over three goals per game during this 11 game stretch. Many of these goals have come off the feet, or head, of juniors Luke Laughlin and Andrew Smith. The tandem has combined for nine goals during this stretch.
On Thursday, the Wildcats defeated Duchesne by a score of 5-0 on Senior Night. While Luke Laughlin came away with the hat trick, senior Danny Sacco also netted a goal in what could be one of his final games on the Westminster field.
While the team has certainly been clicking towards the end of the regular season, their hands will be full as district play creeps up. They will have to beat an undefeated Rockwood Summit squad if they want to keep this season alive past districts.