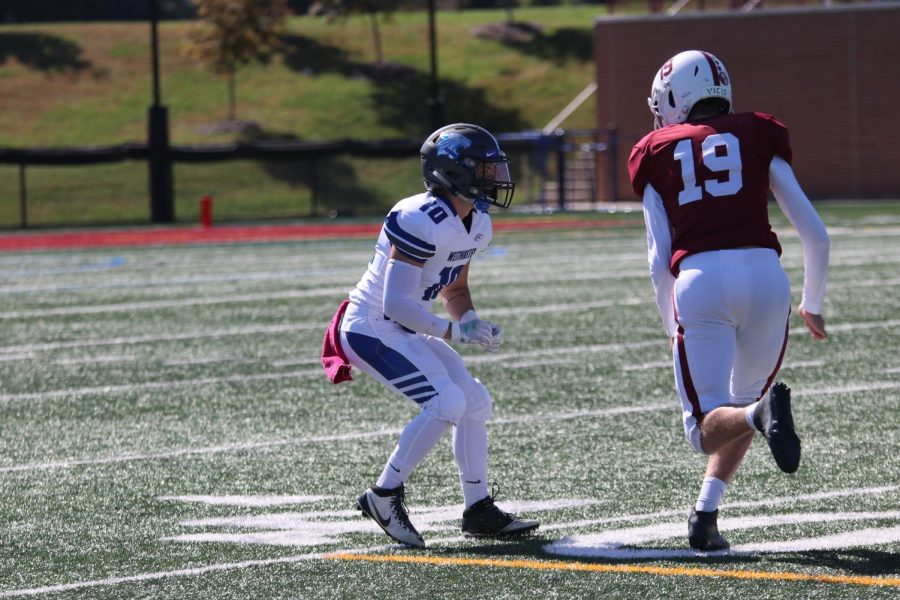 Aidan Penberthy
The Cats dropped another game to a reeling MICDS team this past Saturday, 42-14. The Rams were without their starting quarterback, but they still found a way to win through their tough defense and a fierce running game.
As has been the story much of this season, the Cats got off to another flying start. Senior quarterback Lane Davis put his team on the board early, tossing an 11 yard touchdown to senior wide receiver Ben Hicks after an opening eight minute drive. But that was about all from the Wildcats offense.
After a Wildcat fumble, MICDS quarterback Winston Moore cashed in with a seven yard run via a quarterback draw just before the half ended. 
And from there, the Rams next looked back. MICDS running back Nate Smith took full advantage of a tired Wildcat defense. Smith coasted to three touchdowns in the third quarter, from lengths of 51 yards, 54 yards, and 33 yards. With these scores, the Rams had scored 28 unanswered and took a 28-7 lead going into the fourth quarter.
As the fourth quarter began, several other MICDS running backs got in on the fun. MICDS running backs Garrison Moody and Steve Hall scored again on runs of 67 yards and one yard, pushing the lead to 42-7. The Cats did however end the game on a high note, as sophomore running back Nolan Jones ran for a 16 yard touchdown just before the game ended.
Unfortunately, the Cats were unable to "roast the rams" of MICDS, as was the motto going into the game. The Cats will need to sure up their run defense as they continue their final regular season push and move into postseason play. But for now, the Cats can only look forward to their final home game against O'Fallon Christian High School this Saturday at 1 pm.