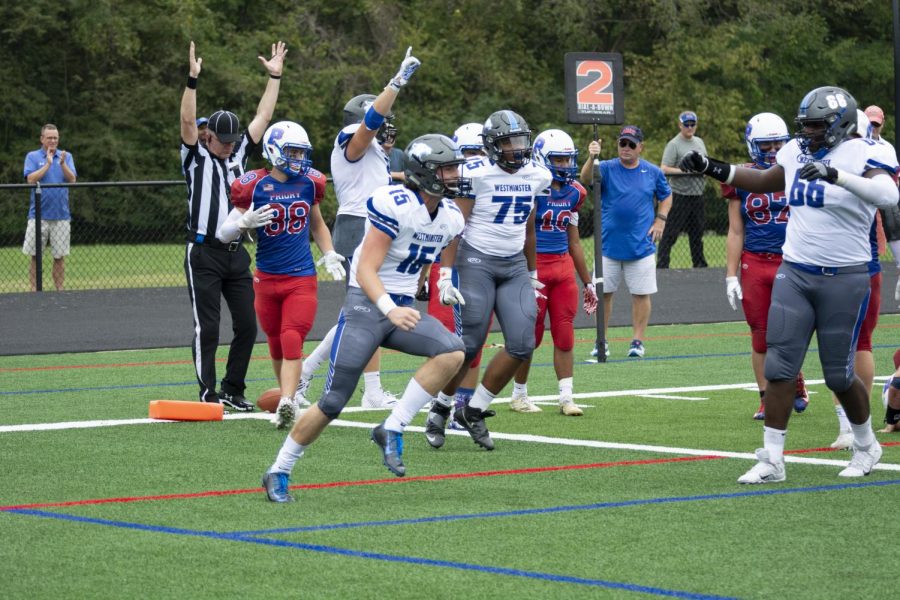 With the newly created Town and Country Cup on the line, the Westminster Wildcats were able to secure their first win of the season over the previously undefeated Priory Rebels by a score of 42-28.
Although the Cats rolled into the game winless, they were able to carry out the age-old tradition of beating Priory. The Cats, who have not lost to Priory since 2012, were able to pull away late, thanks to big plays by many of their Senior leaders.
The Cats started off hot. They wanted the ball off the coin flip, and they backed it up. Senior Lane Davis marched his boys down the field with ease, setting the tone early. The drive ended with a 10-yard TD pass from Davis to Senior Ben Straub. On the other side of the ball, Senior Toby Davidson anchored his defense in and kept the Rebels scoreless, giving the Cats a 7-0 lead after one quarter.
In the second quarter, the Westminster defense met its biggest threat yet: Priory's running back. He broke off many big runs and eventually found the endzone on a 13 yard run up the gut. However, Westminster responded with a 6 yard TD run as Davis dove towards the pylon just before the half ended, giving the Cats a 7 point cushion going into halftime.
Coming out of the half, the Wildcat defense was tested. Priory's running back again seemed to be too much to handle as he scored on two more touchdown runs\; one from a yard out, another from 8 yards out. While the threat of Priory's workhorse loomed large, Davis stepped up his play as well and trusted his Legion of Ben's to make plays for him. Just as the half began, Davis found Senior Ben Chereji on a perfectly thrown 37-yard pass for a touchdown. He later connected with Senior Ben Hicks on a 40-yard touchdown after evading two Priory linemen.
Although Priory's running back did everything he could to keep his team in the game, it was just not enough. Straub put the icing on the cake by breaking out for two huge fourth-quarter touchdown runs: one from 52 yards, the other from 43 yards. With these scores, the Cats were able to seal the deal.
With this much needed win, the Cats can now get the monkey off their backs and believe they are good enough to win. The Town and Country Cup sits high atop the players' lockers as a reminder of what it takes. The cup will serve as a sign of when the season turned around and began a great run of football.
The Cats will look to take advantage of a reeling Lutheran South team, who got trounced by Lutheran North this week, 90-8. The Cats are back in action next weekend at noon, at home, on homecoming weekend.