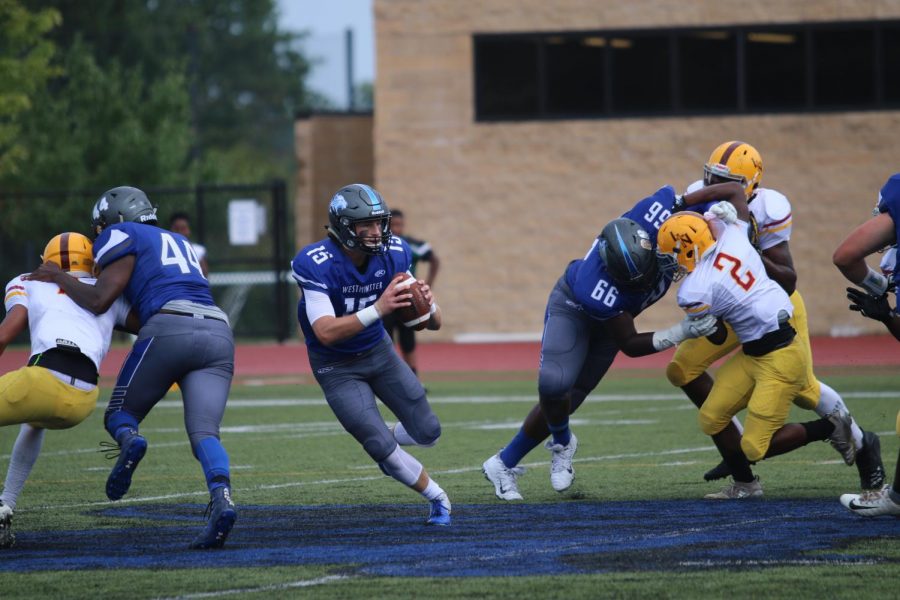 Pearson Georges
The Wildcats knew hanging with the Crusaders of Lutheran North would be a tall task, and this proved true, as the Cats lost the game by a score of 63-14. 
While the loss may seem horrendous from the outside, it is important to note how good Lutheran North really is. Going into the game, the Crusaders were a remarkable 23-3 against Missouri high schools since the beginning of the 2017 season. Along the way, they have produced many highly touted Division 1 football prospects including Ronnie Perkins, Jack Buford, and Isaiah Azubuike.  
At the beginning of the game, it looked within reach. After a Lutheran North rushing touchdown, Senior Lane Davis lobbed a beautiful 20 yard ball to Senior Ben Chereji in stride for a touchdown, keeping the Lutheran North lead at just 16-7 after the first quarter.
From there, it was all downhill. Lutheran North tacked on 27 unanswered in the second quarter off of 2 rushing touchdowns and 2 passing touchdowns from their potent offense. As the teams went to half, Lutheran North took a commanding 43-7 lead. 
Even in the second half, the Crusaders remained merciless. They again scored on runs of 23 yards, 10 yards, as well as a 1 yard run from their stable of elite running backs. While the defense struggled mightily against the Crusaders, the offense also had a tough go of it. However, one bright spot came late in the 4th quarter when Davis found Sophomore LJ Minner in the endzone from 4 yards out. 
While the outcome was never in doubt, the Wildcats can now turn the page on the toughest part of their schedule and hopefully string together some wins against teams in the conference. The Cats take on the undefeated Priory Rebels next weekend at Priory at 1 PM.