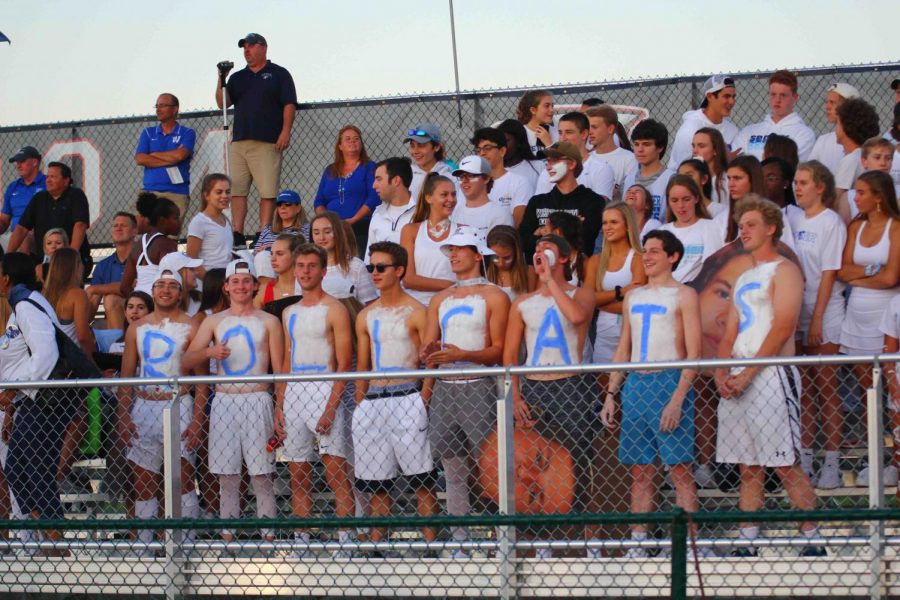 Aidan Penberthy
After an hour of buying blue and white body paint, meticulously applying it and letting it dry, and enduring insults from every Liberty student for not wearing a shirt, the "Roll Cats" body paint idea came to a screeching halt. By our own administration.
For one of the two last high school Friday Night Lights games of our lives, eight Senior boys decided to go all out and show extraordinary school spirit by painting each of our chests with one letter that would altogether spell out "Roll Cats." Rather than being supported in this act of school spirit, we were kicked out no sooner than we arrived.
"I just wanted to be creative and show my school spirit. We spent so much time on planning this night and to have it shut down immediately was a real bummer," said Danny Sacco, Senior.
We took the walk of shame out of our student section and held together in protest by standing in a grassy area next to the bleachers. While we discussed what had just transpired, we always came back to the same conclusion: for a school that cares so much about being dubbed as a college prep, this seems quite contradictory. Body paint is seen everywhere at college events all across the country, but for Westminster students, it is taboo.
To find out more about all the rules, we went in and examined the Athlete-Parent Handbook thoroughly. The only mention of Crowd Behavior comes on Page 8. The rules do in fact mention there shall be no negative comments directed towards the opposing players, fans, players, and coaches. This rule is well known and now followed by all students supporting their Wildcats. However, there is no mention of modesty, shirt or no shirt, or any other clothing discretions. Therefore, in saying there was an existing rule that us as students should know about, is not true- it is not even in the While students may disagree with the rules, Senior blue crew leader Henry Hartshorn took a firm stance to the issue.
"Of course I would love to have a group of guys paint their chest with an appropriate phrase; however, I respect and will follow the rules given to me by my leaders, and I will enforce these rules as well."
As Westminster students continue to support their teams this year, it is critical they stay within the parameters given to them. While students may see some of these rules as going overboard, they are rules that must be followed. At the end of the day, we're all trying our best to will the Cats to victory- with or without a shirt.