ThriVe for Life
Laura Tarantino, Staff Writer
May 10, 2012
Filed under News
It's been said that a picture is worth a thousand words. The blurry image of an unborn child could be worth a life. 90% of abortion-minded women who see their ultrasound choose life. (thrivealivestl.org)
Because of poverty, many women here in St. Louis never have the opportunity to get an ultrasound. ThriVe pregnancy resource center is out to change that by working ceaselessly to fight abortion and heal the lives of women affected.
"Our focus is to end abortion in the state of Missouri by sharing the love that our Lord Jesus Christ has for us and showering that love on the families involved in unplanned pregnancies," said John Hartwig, Westminster father who has been on the board of ThriVe for the past four years.
ThriVe provides free ultrasounds and Christian counseling to pregnant women in the St. Louis area. Through a 16 month educational process called "Parent University" the organization encourages and assists moms to complete their GED, find employment, secure housing, and learn how to care for their newborn.  ThriVe has several locations in St. Louis and recently added a Mobile Medical Center, a bus with free pregnancy testing and ultrasounds.
In addition to assisting mothers and their babies, ThriVe works to encourage youth to engage in abstinence until marriage through a "Best Choice Program." Preventing unhealthy relationships and unplanned pregnancies requires a total change in the mindset of American culture. And that begins with change in the hearts of young people.
"This year, the Best Choice Counselors have spoken to over 13,000 students in the St. Louis area. This program continues  to  reach more and more young adults each year," said Hartwig.
Many of ThriVe's services are free, so that the ministry can reach people in needy situations. To keep it this way, ThriVe needs volunteers. Students at Westminster have stepped up to support ThriVe's efforts.
"Usually I help with big ThriVe events, like the upcoming 5K and events at Six Flags and at the Pageant. Sometimes I make phone calls in the office too! This organization is Christ-centered and truly loves their clients well," said Annie Hartwig, junior, whose dad is on the board at ThriVe.
Christian Thompson, junior, also volunteers with the ministry, and encourages others to do the same.
"It's something that I support because it's run by Christians and they are concerned about things that I care about," said Thompson.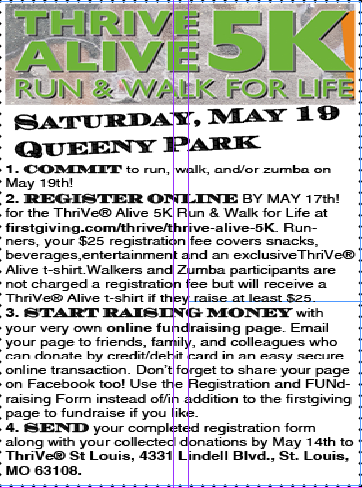 In past years, a few students have chosen to do their senior service at ThriVe. This year, no seniors worked at ThriVe, but next year four seniors will work at one of the ThriVe locations on Thursday mornings.
"WCA students have been an absolute blessing to ThriVe. Students have volunteered at various events…such as Rock the Pledge at the Pageant and Rock the Family at Six Flags. In addition, baby items collected through ITSOG have been donated to ThriVe. We are so thankful for this support," said John Hartwig.
Recently, ThriVe has supported pro-life legislation in the state of Missouri. On April 19th, the Missouri House of Representatives passed House Bill 1274, which makes it more difficult for women to receive RU 486 (a drug that causes an abortion). On the same day, the house also passed House Bill 1534, which declares that federal funding for abortion (under Obamacare) is unlawful, and that it exceeds the powers of Congress.
WCA students can be more involved in this ministry by donating baby supplies (diapers needed!) or by participating in the 5K at nearby Queeny Park on Saturday May 19th. Go to https://thrivealivestl.org to donate or find out more.