Triumph With the Trumpet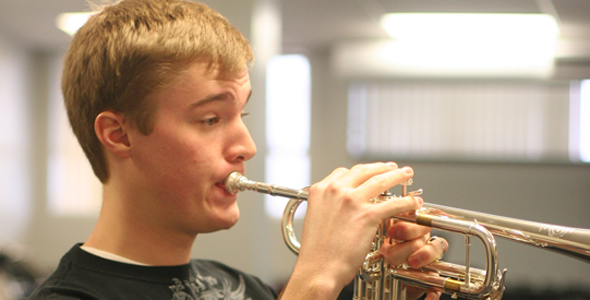 Laura Tarantino - staff writer
November 18, 2009
Filed under News
The boy lifts the shiny brass instrument to his lips and blows out the melody of a worship song. The crowd of high school students follows the voice of the trumpet with singing.
"I've been playing the trumpet for nine years," says Aaron Krumsieg, senior. Krumsieg's phenomenal trumpet career began with childhood curiosity.
"My dad used to play the trumpet. So I would always want to get it out and play it," said Krumsieg.
When he was in third grade he began to take trumpet lessons at Webster University Community Music School. His good experience there led him to still be taught by the same teacher today. Krumsieg participates in the Missouri Music Educators Association (MMEA) district auditions and state auditions for the trumpet. Last year, Krumsieg placed first in state competitions with the MMEA. Earning this honor was not easy.
"I try to practice as much as I can. Usually that's just an hour or hour and a half per day," said Krumsieg.
He performs as much as two or three times a month for various school functions or with St. Louis Symphony Youth Orchestra. This is his second year in the St. Louis Symphony Youth Orchestra.
"Everybody in there really cares about music which makes it really fun to play together," says Krumsieg about the Youth Orchestra.
Recently, the St. Louis Symphony Youth Orchestra played a joined concert with the Kansas City Youth Orchestra. Krumsieg says that there were about 180 young musicians on stage. This made for very loud, interesting, but beautiful music.
Another place where Krumsieg shows trumpet talent is in chapel band school. In chapel band, the group gets to work together and use their talents to glorify God.
Besides playing trumpet, Krumsieg says that he babbles in piano, accordion, and a little guitar. However, the trumpet remains his musical forte.
"I love the sound it produces and the music that was written for it." says Krumsieg. He usually plays his B flat trumpet; he uses a C trumpet for orchestra and a piccolo trumpet for special performances. But its not the trumpet that makes a trumpet player, like Krumsieg, so good.
"What makes a trumpet player good is being able to hear every distinctive note," said Krumsieg.
Krumsieg will graduate this spring but he plans to continue his trumpet career throughout college. As of now, he will go to Wheaton College to major in trumpet performance.