21 Voices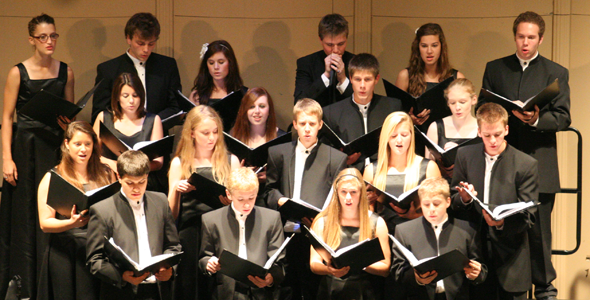 Margaret Moore - staff writer
October 15, 2009
Filed under News
The 21 voices in the 2009-2010 Concert Choir can be heard crooning "By Your Side" by Tenth Avenue North, in the choir room in the early morning.
In 2005, Allen Schwamb, the Upper School and Middle School choir teacher created the Chamber Choir because he longed to further the development of the music program.
"Another level of choir helps to challenge those who desire to be challenged," said Schwamb. "Plus, I enjoy it!"
The Chamber Choir is an auditioned group inside the concert choir for students who truly take pleasure in singing and music.  These students are originally in Concert Choir but they choose to spend their extra time rehearsing their a cappella styled music in Chamber Choir.
A cappella is a type of music that is produced without accompaniment, and it is the main form of music generated by the choir.
"It really is humbling and cool to see that they choose to do this, they choose to sing additional songs in spite everything else they have to do," said Schwamb.
There are three main choirs at Westminster; first is mixed choir, which is more of a beginning choir; next is Concert Choir, which requires an audition.  A step up from that is the Chamber Choir.
"They are the Best of the Best," said Caroline Thompson, sophomore, who is currently in Concert Choir.
The choir consists of mostly Juniors and Seniors, and occasionally Sophomores.  This year there are two Sophomores, Amanda Radasch and Peter Johnson.
"Chamber Choir is really fun because its more challenging and it is a good chance to become a more experienced singer ," said Radasch.