More than just an English Class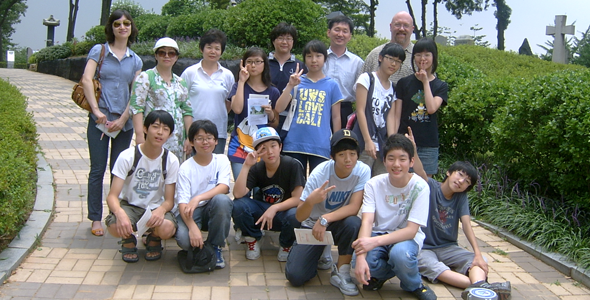 Mari Knehans - staff writer
September 30, 2009
Filed under News
"People do not learn languages and then use them, but learn languages by using them." Westminster has chosen to take action and embody its own Spanish department's motto by sending WCA faculty to Korea in order to immerse students in the English language. Westminster's goal is to enable them to gain a more functional understanding of English.
Over this past summer, Thomas Johnston, freshman ancient history teacher, traveled to Bundang, South Korea, which is a suburb of Seoul to the fourth floor of Saemmul Presbyterian Church where the brand-new Saemmul Middle School has taken root and conducted a three-week English camp for students in the 7th grade.
"Studying the English language is pretty common throughout Asia, especially in Korea. What many schools prefer to do is bring in a native English speaking teacher, so that was me," said Johnston.
Mr. Johnston assisted Miss Ahn, Saemmul's English as a Foreign Language teacher, in collaborative effort to run the camp. Johnston helped the Korean youth learn English through sharing his passion and knowledge of social studies in half-day classes. During the three weeks, Johnston taught American History, World Geography, and even touched on the subject of leadership and historical leaders. One afternoon, Mr. Johnston started a chess club for the students similar to the one he conducts at Westminster.
"I just had a fabulous time. Every day was an adventure. It was extremely fulfilling for me professionally and personally," Mr. Johnston noted.
Not only is WCA sharing personal expertise of the English language, but is bringing these students a real understanding of our culture. Each afternoon the teachers held extracurricular activities such as conversation practice sessions. Each day had a theme; for instance, during American History week, one of the days was solely focused on the pilgrims and the first Thanksgiving.
"We all know about our culture, but they are unaware of why we even celebrate Thanksgiving," said Dani Butler, WCA's English as a Second Language teacher.
Out of the 73 students that attend Saemmul during the normal school year near 90 % attended the English camp. Because this experiment thrived so well, WCA has decided to make the camp annual.
In the summer of 2010, Westminster will send three teachers to Korea. They will contribute in hosting a camp similar to the one Mr. Johnston assisted in conducting, bringing their own curriculum and zeal. The camp will be extended to all-day sessions for students in both 7th and 8th grade. WCA's summer camp program hopes to grow with Saemmul as they expand their grades from K-8th all the way to K-12th. WCA is even taking into consideration sending Westminster seniors to Korea after the elementary and middle school grows into a high school to assist in the Korean students' grasp of American society.
Westminster's hope is that this camp will become a key aspect of the spiritual, as well as the overall sister school, relationship Westminster and Saemmul Middle School share.
"We may have different cultures, different languages, and all kinds of unique customs, but we all share the same Lord and Savior, Jesus Christ," Johnston remarked.