Friday Faith and Fellowship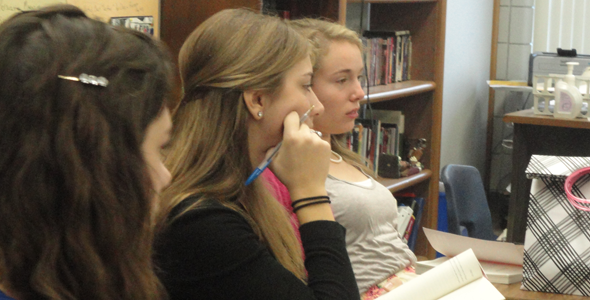 Danielle Cicka - Editor-in-Chief, Editor-in-Chief
September 22, 2010
Filed under Features
The senior girls meet on Fridays to discuss the book Crazy Love.
"Throughout time, somewhere between 45 billion and 125 billion people have lived this earth.  That's 125,000,000,000.  In about 50 years (give or take a couple decades) no one will remember you.  Everyone you know will be dead."  This is just a sampling of the ideas discussed in the book Crazy Love by Francis Chan, the subject of the senior girl's Bible study.
Every Friday morning, even before some of the faculty arrive at school, the senior girls dive into the Word of God in their new class Bible study, started by Abbie Clark and Kayla Gebhardt, seniors.
The meetings are at 7:20 am in Mr. Tim Holley/ Dr. Timothy Gibson's room, room #17.  The book Crazy Love describes the love of God in a way that people claim is life-changing.  Simple language and vivid anecdotes separate it from a typical devotional.  Chapter titles include "Stop Praying" and "You May Not Finish This Chapter".
"Chapter 2 was about stress and worry.  It reminds us that it is a sin and the book says that our lives are like only two-fifths of a second of a movie where God is the star," said Haley Bergman, senior. 
Elizabeth Miller, senior, believes that this is a major theme of the book.
"I learned that life isn't about us.  We forget the big picture is about God.  But we play a role in it and we are important.  He loves us with, like the name of the book says, crazy love," said Miller.
In the study, the discussions deal with topics that are applicable to the attendees.
"The topics are relevant to me and it's great to talk them out with others.  I usually don't get to talk about them much," said Miller.
The first meeting was held on September 3rd and many people attended, but more are encouraged to come.
"I ask people all the time to come.  This is one of the most convincing books I've ever read," said Rebecca Harding, senior.
The group tries to have a relaxed atmosphere to encourage others to come.
"It is a very open environment where you can say as much or as little as you want," said Bergman.
Clark and Gebhardt began this study as a continuation of one that began last year.  When the class of 2010 was in 11th grade, they had a weekly Bible study and they passed it down to the class of 2011.  This continued as a Bible study for the junior girls.  This was more of a devotional; everyone lead a different topic each week.  This year, the study, taken over by Gebhardt and Clark, follows the book each week. 
"Kayla and I did one last year with our lunch table.  Our class really wanted to get to know each other, so we branched it out to all [senior] girls," said Clark.
But Clark and Gebhardt are not the only ones who bring valuable insight to the book; the discussions stir meaningful ideas as well.  Last meeting, Rebecca Harding, senior, showed a visual symbol (pictured) as a way for the girls to remember that everyone's life is a fleeting second and should be lived for God who is the greatest. 
Some members had already read the book.  
"I had read it in my youth group before.  I love the book.  It is different from just reading the Bible; it really analyzes it.  I gave it to so many of my friends," said Harding.
In the future, the study is expected to finish Crazy Love and maybe move onto another like Sacred Echo by Margaret Feinberg, according to Clark.  This will depend on how the group responds. 
Some passages in the book ask readers to watch corresponding videos online.  For these videos and more information on the book and author, visit www.CrazyLoveBook.com.