Back to School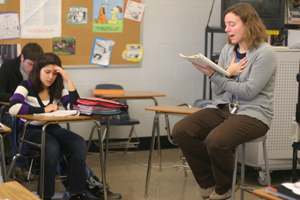 Laura Tarantino - Staff Writer
January 11, 2010
Filed under Features
"This is where God brought me," says Emily Roig, upper school Spanish teacher. Roig graduated from Westminster in 2004. When she graduated Roig was not thinking of teaching. She was planning to be an occupational therapist or a counselor. While in college, Roig studied abroad in Spain and discovered how much she loved Spanish culture.
"Last year a teacher here asked me if I wanted to teach Spanish and I thought maybe that is what I should do," said Roig.
Roig enjoys the community at WCA and loves the fact that her faith can be shared so freely. Roig enjoys leading worship with some of her classes. When she was in upper school she was on chapel band for three years. Singing, song-writing, and playing guitar or piano are some of her favorite hobbies.
"I don't know what God's plans are but for now I feel that this is where I should be," said Roig. Many of the graduates who teach here feel the same.
"I'm going to keep on doing what I'm doing and being content with it until God makes it clear that I should do something else," said Tim Hall, upper school Dean of Students and chemistry teacher.
Hall graduated from Westminster in 1986. He had planned on to be a college chemistry professor. He began substitute teaching at WCA while he was in seminary. When a job position opened up, he took it.
"God grabbed me by the ear and pulled me where he wanted me to go," said Hall.
Hall now teaches upper school chemistry and is the Dean of Students. Though he had wanted to teach college students, he realized during college that he loved teaching high school kids.
"I love sharing my passion for God's creation by teaching kids and pointing them to Christ through studying His creation."
In his free time Hall enjoys fly-fishing, wood working, and restoring muscle cars.
"I've got a car that I've been working on for 6 years," said Hall.
Nathan Talley, WCA class of 1993 also teaches at Westminster. Talley teaches 8th grade Bible class and coaches Varsity girls and Varsity boys tennis.
"I never really had a plan. I don't try to make long term plans; today has enough worries of his own," said Talley about his career plans in the past.
Before teaching, Talley was a house parent at a maternity home in Washington, Missouri, for three and a half years. Now, Talley enjoys writing songs, making videos, tennis, playing with his kids, and going on dates with Mrs. Talley.
Another alumnus who is on staff at Westminster is Doug Coleman, class of 1999. Coleman teaches middle school health, P.E., and middle school winter athletics. Coleman's passion for basketball and coaching started in high school. His coach, Terry Johnson, let him coach his first team while in high school: a middle school basketball team at Westminster.
"I enjoy the kids in the classroom. They're bold and willing to learn. In P.E. I enjoy playing with the kids." In spare time Coleman likes to play basketball and play with his three small children.
Many of the teaching alumni have had interesting or unusual jobs in the past. During college, Coleman unloaded cement from a barge from six in the evening to six in the morning. Since his job lasted all night he had more time during the day.
Although she did not work through the night, Roig once worked at a bakery and had to open shop at 4:30am.
Talley had a job testing mufflers. Tim Hall had a college job walking around a parking lot and filling in a diagram where there were empty spaces. This was done to give those building parking lots a better idea of how much room was needed.
"God designed us for different things; we all receive certain gifts. I think one of mine is teaching," said Talley.