Class Presidents Take Charge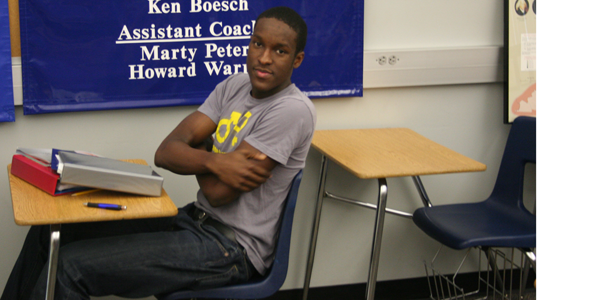 Kelsy Cline
September 30, 2009
Filed under Features
As the leaders for the student body at Westminster Christian Academy, class presidents take on the role to motivate and serve their class.
Every May, students in grades eight through eleven contemplate whether they want to run for a role to lead his or her class for the following school year. Last Spring, Michael Becker, ninth grade, Noah Roberts, tenth grade, Cooper Dunlap, eleventh grade, and David Alexander, twelfth grade, were elected as the class presidents for their class.
Through the satisfaction in leading one's class, the responsibility also creates many challenges for class presidents.
"Time management and encouraging my entire class is the toughest part about leading my class," said Alexander.
These leaders have an important role in planning school functions. Whether looking to future or daily decisions there is constantly work to be done for the class presidents. Every week they must decide if small groups should meet individually or as a class. Booths for carnival must also be decided along with the other important issues within the class that they specifically must cope with. Issues brought up that these young leaders deal with are not always the easiest jobs. During carnival the booths must be run by students, however when many are not willing to volunteer, the presidents are in charge of filling spots. The same occurs during spirit week when trying to fill hallways, games, or main events. Dunlap and Alexander, as upper classman, lead their peers in preparation and planning for junior-senior banquet. Many of the activities that Westminster students participate in can be credited to the hard work of their president.
One hundred and sixty students cannot all speak at once. Therefore, class presidents also act as the voice for his or her peers. It is crucial that each student's voice is heard to ensure that the majority is pleased if possible, yet it is a challenging task for one student to achieve.
"I like my class and feel like I can help them out, but making choices that everyone will like is defiantly the hardest part of being president," said Dunlap.
Tackling the job as class president comes with significant responsibilities, hardships, and trials. However, it is a position that compels certain people to handle.
"I wanted to take on the roles as senior class president because I'm involved in a lot of different areas within the school. I have a strong desire to see lives change within my class," said Alexander.
Outside their busy roles as leaders, these four are involved in various extra curricular activities at Westminster. Class presidents suiting up on the football team include Roberts and Dunlap. Becker takes an avid role as a member of the jazz band while Roberts is on the golf team. Dunlap also uses his mental strength as member of scholar bowl. Alexander works with a number or groups throughout the school including the ambassadors, spiritual life team, and the diversity committee.
These young men may be defined with commitment, honor, and perseverance as they take on the role as student leaders for Westminster.